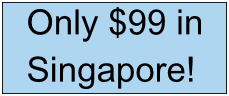 What's Surbo?
The Surbo (air suction-turbo) is an air intake charger. It is a stationary, curved air guide that creates pressurizing jets and a suction vortex. Some customers likened it to a pressure check valve, because it holds the air pressure on the output end. It helps the engine induce more air during acceleration, to match the increased fuel input then (due to greater accelerator pressure). More complete combustion is achieved. The result is quicker revving (RPM limit achievable with just 1/2 throttle), and as you get to speed sooner, you will save around 10% fuel, sometimes more.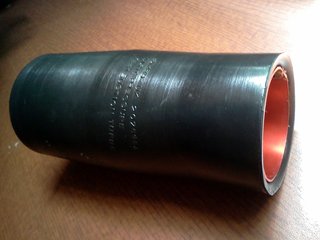 Above: red Surbo in supplied rubber housing.
What Surbo is NOT
The Surbo is not a rotating device. Due to someone misusing the Surbo name in a Youtube video for such a product, there has been some confusion. When unsure, please ask us.

Related: How Surbo Works
Quality
The Surbo comes with ISO 9001 anodized colour coating for a lasting, washable finish. Its metal is factory-stamped and brand-marked. Its moulded rubber adapters are SIRIM-certified.
Test Results
Dynamometer test results
Examples of Surbo installation
The air filter setup will be put back as before after installation.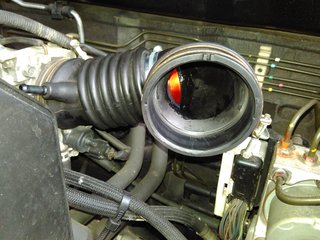 Above: Photo of Surbo in pipe after the air filter
of Mitsubishi Lancer CS3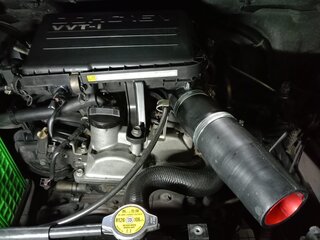 Above: Photo of Twin Surbo on Daihatsu Terios/ Toyota Rush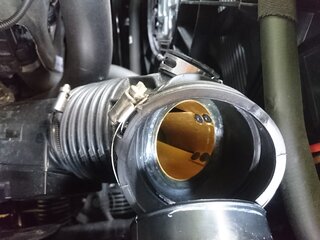 Above: Photo of Surbo5 on BMW X4 2.0.
What's the difference between the Surbo, the Twin Surbo, and the Surbo5?
The Surbo is the original and fits around 90 percent of cars in Singapore, those with air pipes with an internal diameter of around 2.5 inches. If the pipe size goes up to 3 inches or slightly more, typically for cars 2.5 litres or above, the Surbo5 will be applied. The Surbo5 was based on the Surbo, and so called because it has 5 fins. Where there is space, the Twin Surbo, which is 2 Surbos in a straight line may be applied, as it gives slightly more torque and an extra 5% of fuel saving.

More Surbo Installation Pictures

Related pages:

Surbo System's Energy Analysis
Videos:

Watch the video above showing how an engine revs with Surbo. Or watch it with the How it works page.

Above: video of Volvo XC90 T8 with Surbo, sprinting to 130 kph.

Above: video of Volvo XC90 T8 with Surbo, sprinting to 211 kph.

Above: video of Volvo XC90 T8 with Surbo, sprinting to 224 kph.
Site Map:
TESTIMONIALS:

BENEFITS:
More torque and BHP (dyno test)
Quick revving (1/2 throttle to RPM limit)
VEHICLES FITTED BY TYPE:

Installation Photos
SURBO VERSIONS:
TECHNICAL INFO:
SURBO FOR RACING:
ABOUT US:

CHAT (+65 9857 2661)
If you are using a handphone to read this, you can press the above CHAT link to either call us, or to save our number to your contacts, and then you can message us by clicking the WhatsApp icon below.
Remember to bookmark this page and come back to read more!