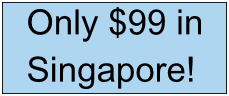 Surbo For Motorcycles
Surbo just fitted to Yamaha Xmax300 (below).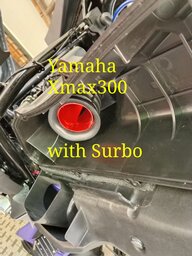 Testimonial (below) from owner:" Yes in terms of acceleration it is better."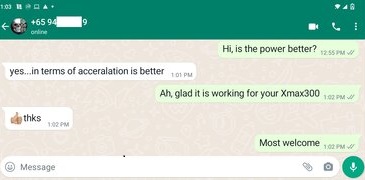 Surbo fitted to 850cc Moto Guzzi VTT85 (below).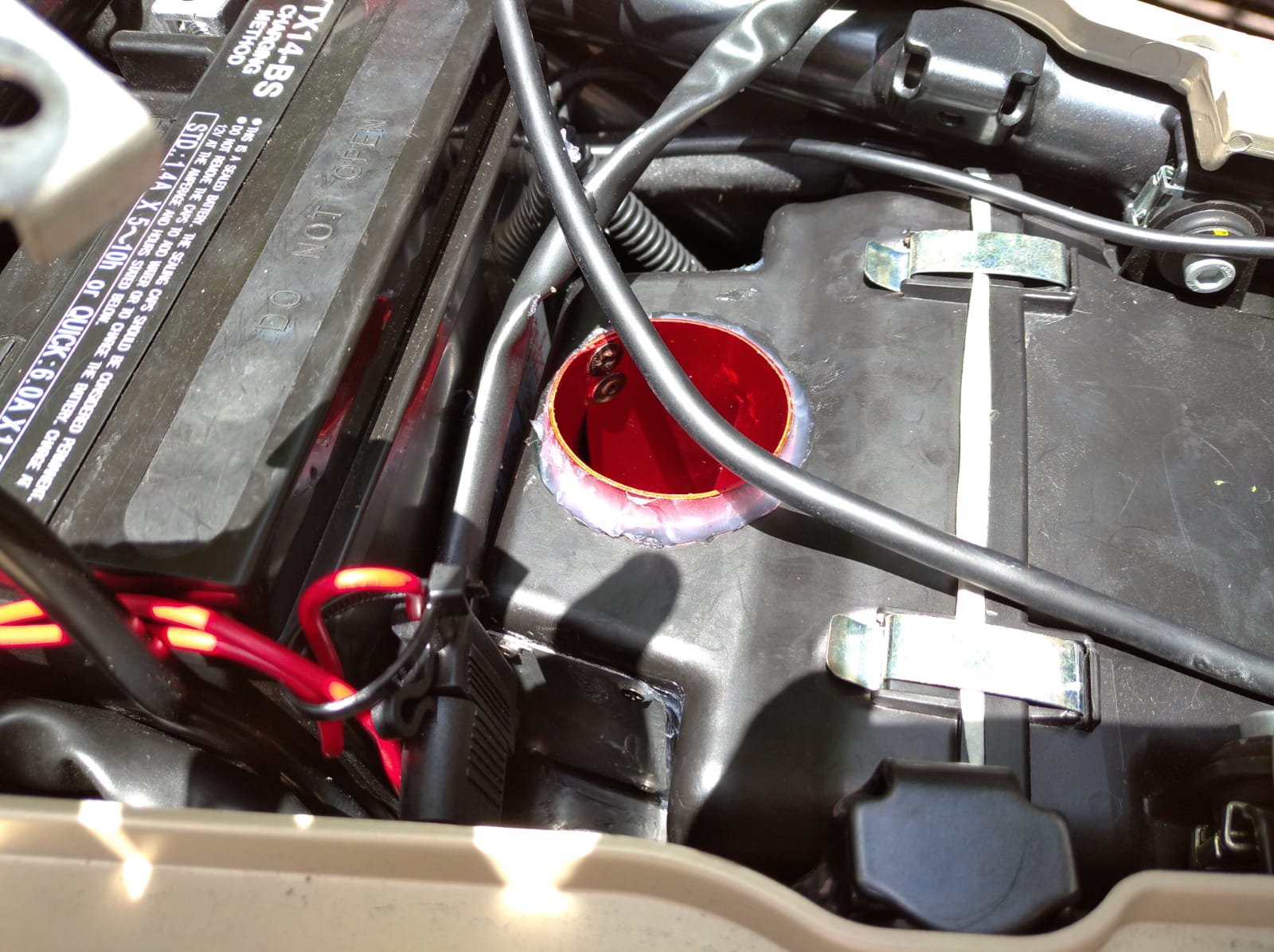 Surbo was also fitted to Honda NV 400.
The Surbo (in black) is shown fitted in air filter cover of the Honda CBR 150 carb. This is similar to the FI model.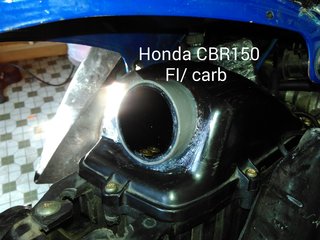 The pictures below show the Surbo (in black in grey pipe) fitted in the air filter box cover of the Honda CBR 150R.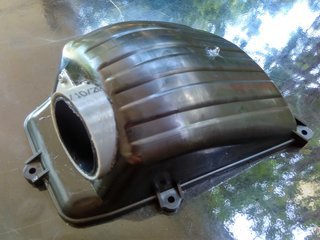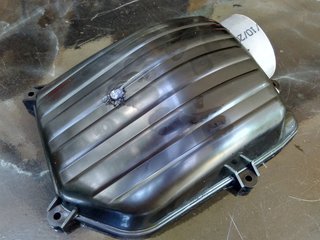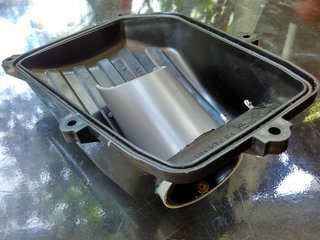 Our grey pipe has an outer diameter of 60mm, so if the cover of your air filter box has a height of 80mm, it should be able to fit.
Testimonial from owner Faredarlee
"Got the Surbo installed on my CBR150R FI. Here's my review after approximately a month of use. Louder/ deeper sound during acceleration, and improved acceleration. Better power when going up slope. Fuel mileage improved from 38 km/l to approximately 42 km/l." Below is the original transcript of the testimonial.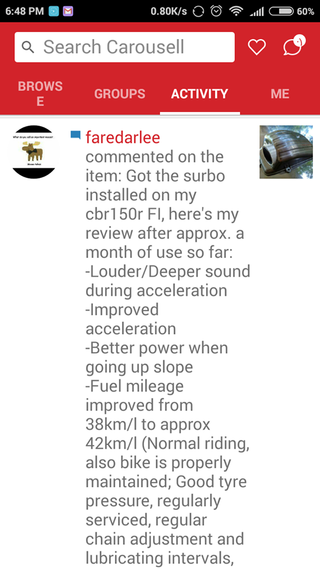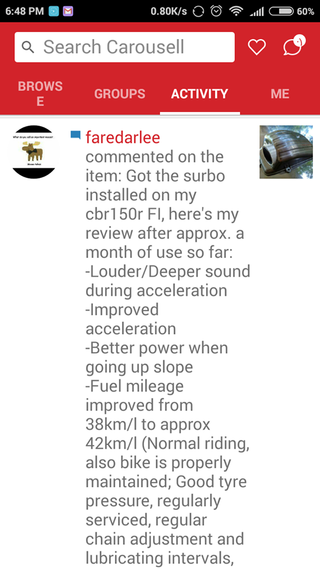 Latest: Surbo fitted on 2004 Honda CB400 Super 4 (shown below)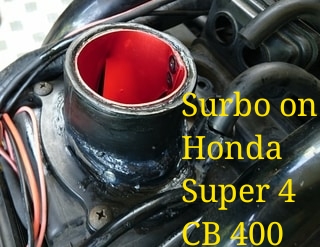 The owner was satisfied with the improved revving and sound at idle.
Surbo fitted on 2008 Suzuki GSR 400 (shown below)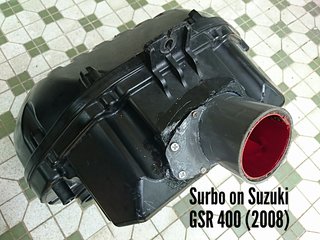 The owner was satisfied with the improved revving and sound at idle.
Other bikes fitted in Singapore
For a Vespa, the Surbo in black housing will be fitted to the inlet air pipe inside the wheel cover.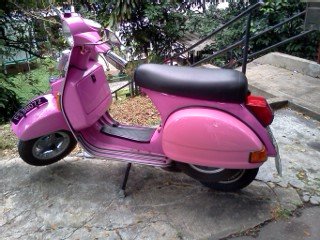 One sports 250 cc Kawasaki with Surbo revved to 16000 rpm. A Vespa scooter saved fuel with the Surbo. A gokart, which had a motorcycle engine, also had much increased power with a Surbo, more so than the same Surbo had on the kart owner's car, possibly due to the light weight of the kart. This means that the Surbo could make a big difference to the power of your bike. Due to a smaller throttle opening for the same power, the Surbo could also cut down emissions, especially for older 2-stroke engines.
Examples of compatible motorcycles
The below is based on available photos of the air filter boxes. There must still be a clearance of at least an inch from other parts of the motorbike, for example, the seat. We will keep updating this list. You might help to suggest more motorbikes. There are videos on how to remove the air filter from motorbikes. You might search for bike brand and model and air filter change and look at the videos, and if you see the air filter cover being taken off, you can send the video to us.

Honda CBR250R, CBR250, CBR300R, CBR300

Yamaha Aerox 155.
For Yamaha motorcycles:
We had previously done a Yamaha R15 that came with a metal pipe connected to the throttle. Yamaha air filters may not have the space inside for a round bore as for the above bikes, but we are able to replace the air filter box with a cone filter as shown below, a pipe for the Surbo, and a step down adaptor to the throttle. Please let us know the outer diameter of your throttle.
Related page:
Videos:

Watch the video above showing how an engine revs with Surbo. Or watch it with the How it works page.

Above: video of Volvo XC90 T8 with Surbo, sprinting to 130 kph.

Above: video of Volvo XC90 T8 with Surbo, sprinting to 211 kph.

Above: video of Volvo XC90 T8 with Surbo, sprinting to 224 kph.
Site Map:
TESTIMONIALS:

BENEFITS:
More torque and BHP (dyno test)
Quick revving (1/2 throttle to RPM limit)
VEHICLES FITTED BY TYPE:

Installation Photos
SURBO VERSIONS:
TECHNICAL INFO:
SURBO FOR RACING:
ABOUT US:

CHAT (+65 9857 2661)
If you are using a handphone to read this, you can press the above CHAT link to either call us, or to save our number to your contacts, and then you can message us by clicking the WhatsApp icon below.
Remember to bookmark this page and come back to read more!