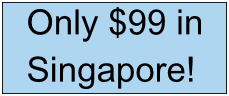 Peugeot 206 test:

In plain text from source (scanned original email)
Dear Heng
Firstly, thanks for the installation of the Surbo on my Peugeot 206.
A few great enhancements have been noticed:
i. Better pick up and throttle response in gears 1-3. More power observed after 2500 rpm.
ii. I have always set my aircon at level 1 to reduce fuel consumption. After Surbo was placed, Level 1 felt colder even at the same thermostat settings. No kidding! My fiance asked if I had turned down the temperature.
iii. At cruising speeds of 90-100 kph, I can also feel the Surbo kick in during overtaking along the expressways. The throttle response was more significant than before.
iv. Surprisingly, I had initially thought that this entire boost from the Surbo would mean more consumption, BUT it did not turn out so! Fuel consumption was bettered slightly from 11.4 km/litre to 13 km/litre for my 50 litre fuel tank. Close to 15% in fuel savings. No bluff! This was observed over 3 weeks of driving after Surbo was installed and petrol was kept to the usual Synergy 5000.
v. Overall, my 1.4 felt more powerful and it simply feels great! The Singapore market does not have many modifications for Peugeot cars. Surbo was definitely a wise choice and more importantly, you were honest in your dealings and shared knowledge about the mechanics of how Surbo and car engines work.
Thanks!
Cheers,
Kenneth Gn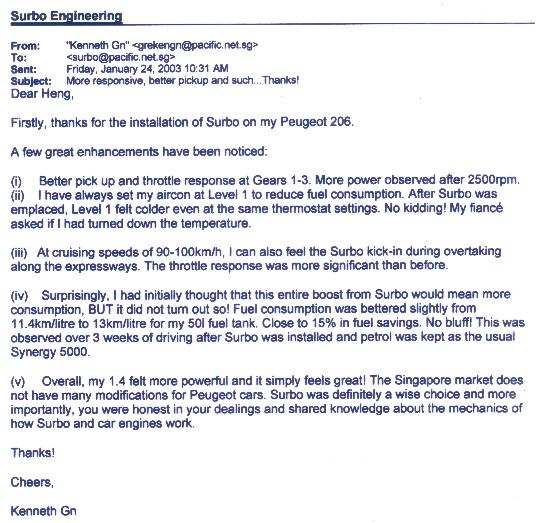 Videos:

Watch the video above showing how an engine revs with Surbo. Or watch it with the How it works page.

Above: video of Volvo XC90 T8 with Surbo, sprinting to 130 kph.

Above: video of Volvo XC90 T8 with Surbo, sprinting to 211 kph.

Above: video of Volvo XC90 T8 with Surbo, sprinting to 224 kph.
Site Map:
TESTIMONIALS:

BENEFITS:
More torque and BHP (dyno test)
Quick revving (1/2 throttle to RPM limit)
VEHICLES FITTED BY TYPE:

Installation Photos
SURBO VERSIONS:
TECHNICAL INFO:
SURBO FOR RACING:
ABOUT US:

CHAT (+65 9857 2661)
If you are using a handphone to read this, you can press the above CHAT link to either call us, or to save our number to your contacts, and then you can message us by clicking the WhatsApp icon below.