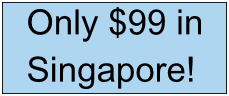 Mitsubishi Lancer CVT test:

In plain text from source (scanned original emails):
Lancer CVT Pg1
Lancer CVT Pg2
Lancer CVT Pg3
Mr Heng
I believe you must be very surprised to receive this email from me.
I wish to thank you for helping me to re-install the above Surbo device back into the air intake hose of my Mitsubishi Lancer Model CS3 CVT last Thursday, late afternoon.
Being in my mid 50's, if a particular device does not deliver to my expectations regardless of the product's write-up and laboratory tests such as dyno-tests etc, I will not hesitate to write to the installer on the product and request for the product to be removed from my car, and insist on a refund.
Likewise, if the device really delivers to my expectations, I'll contact the installer and inform him of how my car performs, which I did.
The Surbo was the first device that I installed in my Lancer (by you 3 months after I bought the car 3 years back). I have owned cars for over 30 years and improving the cars' performance is one of my passions.
Before I decided to try out your product, I recalled having a lengthy telephone conversation with you as I wanted to be convinced that your product wasn't a gimmick or "snake oil", the latter a term being used by some vehicle owners.
You assured me that if I did not feel any improvement in my car's performance and fuel saving within 30 days, I could return the device based on the money back guarantee and you would reinstate whatever that was altered around my engine, if any.
Though still skeptical, I told myself that there was no harm in trying as it was only from trying that I would know if your Surbo device really worked.
I must say that after the installation, my car felt different in that the throttle was very light and pick-up was fast even up to the mid and high range, and yet low rpm could be maintained.
Thereafter, I also installed other aftermarket devices and gadgets to further enhance my car's performance and driveability.
I've heard of many Mitsubishi Lancer CS3 CVT buyers complaining about the sluggishness of their stock cars during pick-up. As some of my friends who own the same car in stock condition also encountered this problem, I invited them to my home last Saturday to try out driving my car.
When I told them that my car could go from standstill to 80 kph at 2500 rpm, and 110 kph was possible between 2200 to 2300 rpm, and 130 kph around 2400 rpm, they were not convinced.
I replied to them "not to judge a book by its cover" as the above device was one of the aftermarket devices and gadgets that contributed to my car's current performance.
Even before driving, they could feel the differences between my car and theirs by stepping on the accelerator. They then took turns to drive my car while I sat next to each driver, and all liked the acceleration and performance.
After all had finished driving my car, I took the Surbo slowly out from my car's flexible rubber hose as it was very tightly fitted. Their first impression upon seeing the Surbo was "M..., you must be joking that such a pathetic looking device could improve a car's performance".
They even compared it with other aftermarket, established brands, which were very intricately and aesthetically designed and cost much more a piece.
I then fitted it into one of my friend's car's flexible hose and temporarily held it firmly with plastic tie strips. When my friend first stepped on his car's accelerator with the Surbo installed, he could sense the light feel of the throttle. While he drove his car, I sat next to him to enable him to feel that the Surbo device really worked.
He felt "shiok" when he discovered that his car's once sluggish and lethargic acceleration became very torquey. After returning to my home and when my other friends asked him for his comments, his first words were "wow" and "shiok" (meaning enjoyable).
As each car differs from another, I took the Surbo out from my friend's car air intake hose and fitted it into another friend's Lancer. The same was also felt by the latter when he started his car, especially during pickup and acceleration.
Having tested the Surbo on their cars, all were convinced that a simply designed and cheap aftermarket device which they had earlier compared with other established brands could change a stock car's performance.
I then suggested that they now try my car without the Surbo and all could feel the lack of punch while driving.
They then asked me for your contact number and address, which I gave them. While they now know that your device is capable of transforming their cars' stock state, I was faced with a dilemma as I did not know how to reinstall the Surbo back properly into my air intake hose.
Since removing the Surbo from my car last Saturday till Thursday, I simply did not have the kick as the instant response on the pickup wasn't there and had to step slightly harder on the throttle. Fuel consumption was also higher.
As I wanted the Surbo to be installed by you, who is the installer and designer of the product, I contacted you last Thursday afternoon on the above, whether you could help me reinstall the Surbo. I was glad when you told me you were able to reinstall the Surbo into my car on the same late afternoon.
You even did it free of charge and I have to thank you very much for this free service.
Just to share something interesting with you. After you reinstalled the Surbo, I instantly felt the instant kick-in by just tapping lightly on the accelerator afterwards.
Since reinstalling the Surbo last Thursday till today dated 17 Sep 2009, which is exactly one week, I noted that from standstill to 80 kph, the tachometer showed 2500 rpm at 110 kph, and between 2200 to 2300 rpm at 130 kph around 2400 rpm. Isn't it amazing that the rpm is so low?
Prior to removing the Surbo from my car to be tested on my friend's cars, I was also acheving similar results as per above and lower fuel consumption.
Well, having used your Surbo device on my Mitsubishi Lancer CS3 GLX CVT for the past two and a half years and my friends' satisfaction after trying the Surbo recently, I am sending you this email from my impartial experience that your Surbo has been proven to be an effective aftermarket performance and fuel saving device.
For those who wish to install your Surbo into their cars after reading this email, I have to state that they would be able to improve their vehicle's performance and fuel saving to a certain extent but not to my Lancer's above results.
Reason being that I have installed several aftermarket performance devices including replacing stock parts to performance ones and all these have contributed to my car's current performance.
I have no objection for you to use this email to show vehicle owners who are sceptical on the effectiveness of your Surbo product.
Cheers
Mike Yeo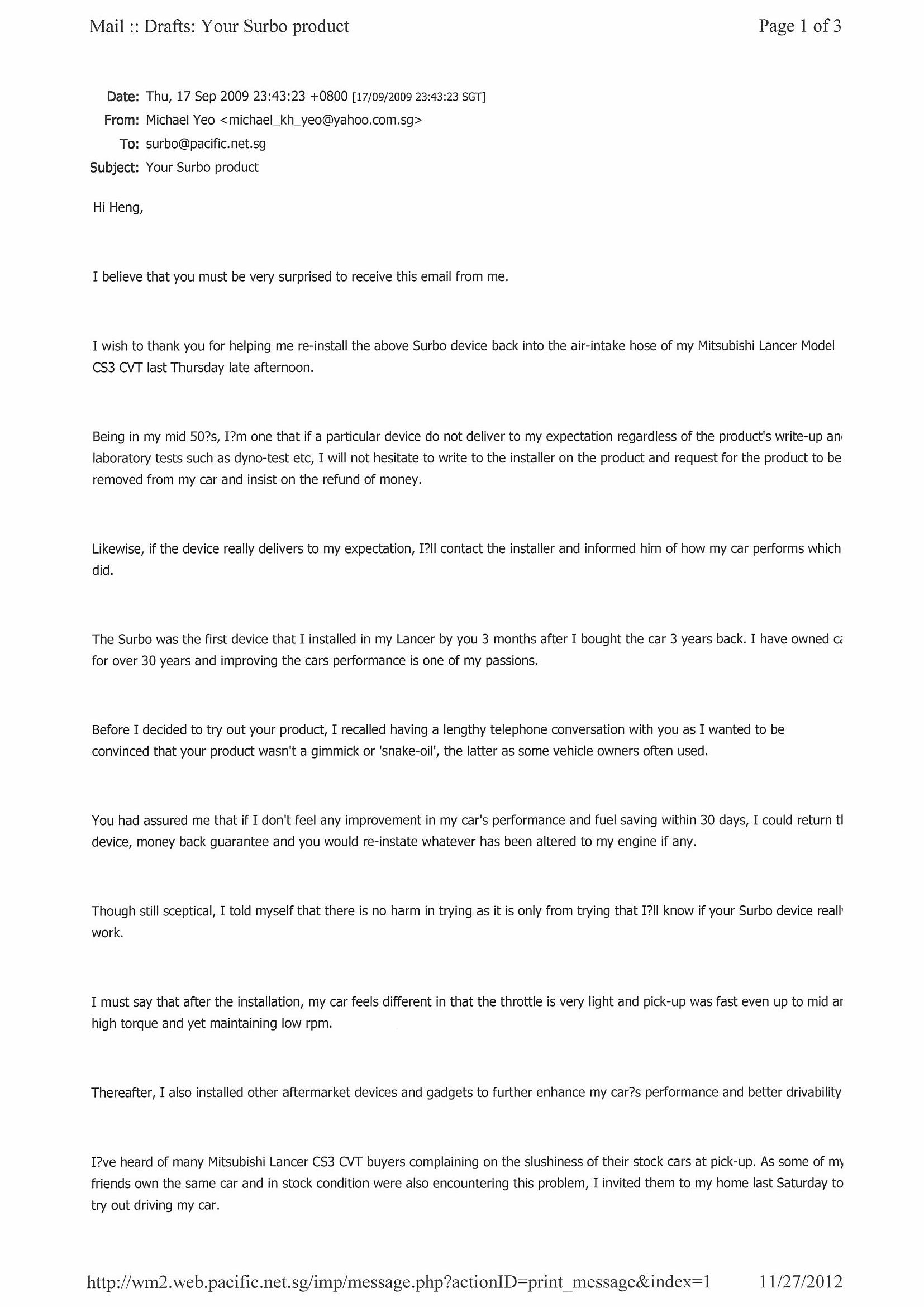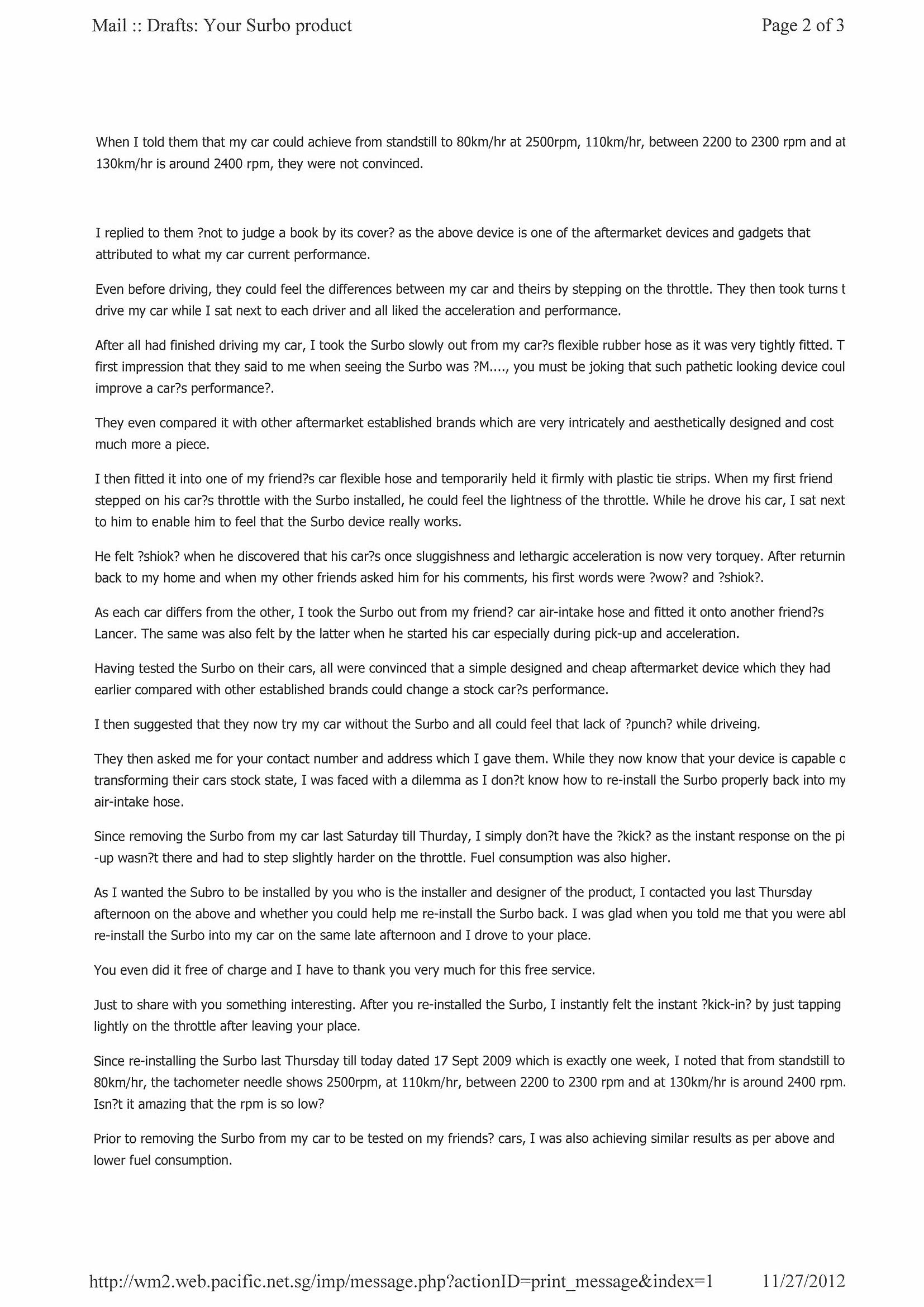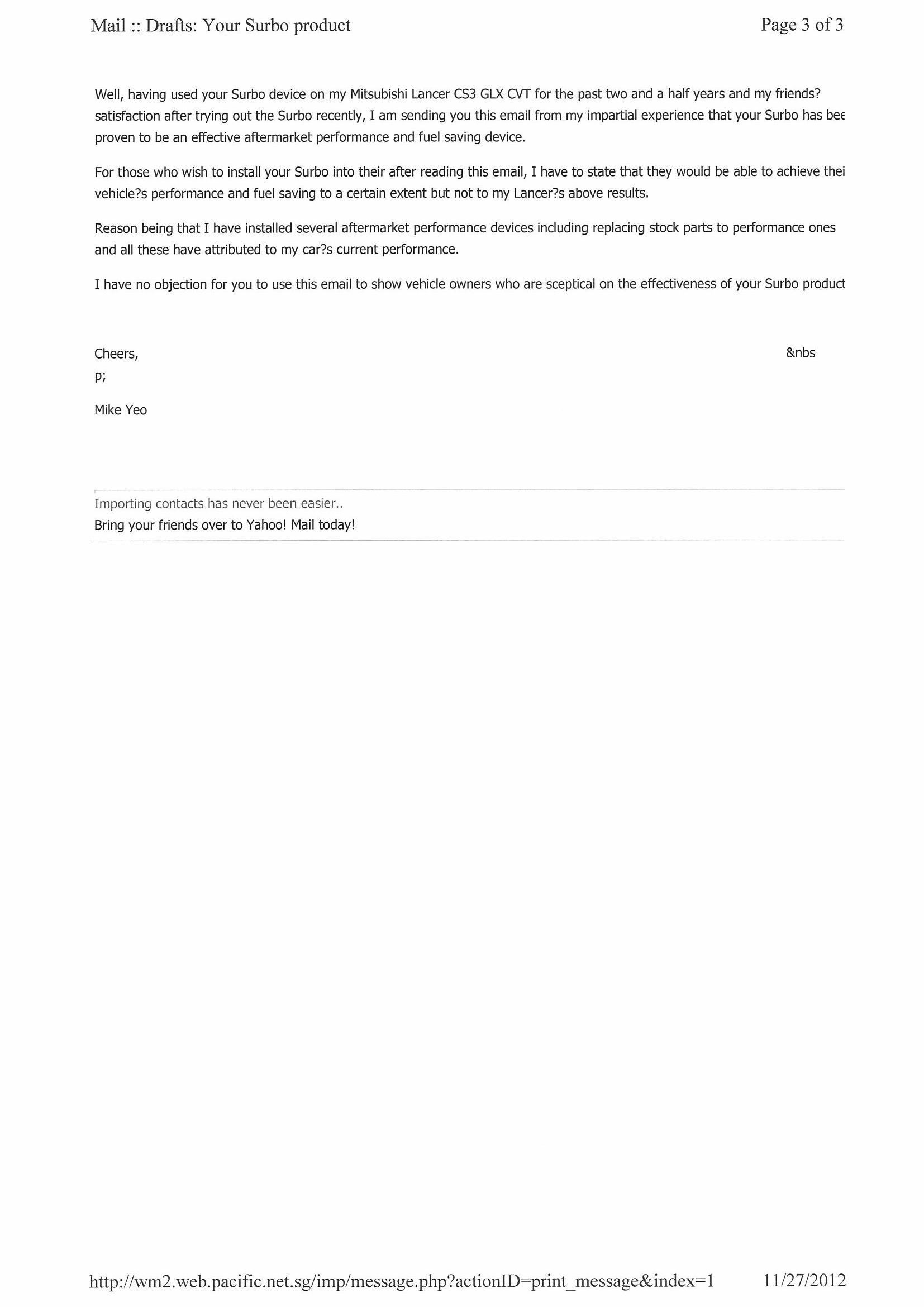 Videos:

Watch the video above showing how an engine revs with Surbo. Or watch it with the How it works page.

Above: video of Volvo XC90 T8 with Surbo, sprinting to 130 kph.

Above: video of Volvo XC90 T8 with Surbo, sprinting to 211 kph.

Above: video of Volvo XC90 T8 with Surbo, sprinting to 224 kph.
Site Map:
TESTIMONIALS:

BENEFITS:
More torque and BHP (dyno test)
Quick revving (1/2 throttle to RPM limit)
VEHICLES FITTED BY TYPE:

Installation Photos
SURBO VERSIONS:
TECHNICAL INFO:
SURBO FOR RACING:
ABOUT US:

CHAT (+65 9857 2661)
If you are using a handphone to read this, you can press the above CHAT link to either call us, or to save our number to your contacts, and then you can message us by clicking the WhatsApp icon below.