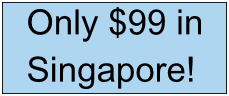 VW Caddy TDi test:

In plain text from source (scanned original emails):
VW Caddy Twin Surbo+Turbo Diesel Pg1
VW Caddy Twin Surbo+Turbo Diesel Pg2
VW Caddy Twin Surbo+Turbo Diesel Pg3
7 Feb 2002
Sorry Lionel, for the record, I am not trained to answer your technical questions about how the Turbo and Surbo works. Perhaps someone from the Caddy Club could assist to enlighten us.
But, what I do know is from my personal experience with the Surbo. I am also in no position to speak on behalf of others who have similar Surbos installed in their Caddys. Let them tell us about their personal experiences.
What I mentioned earlier are the things that I know, as a layman. Like you, I am also amazed by the enhancement to the performance of the Caddy simply by installing such a simple and straightforward gadget, i.e. Surbo.
My personal experience with the Surbo has been fulfilling. And, by adding on another Surbo (to make it a Twin Surbo) the performance of my Caddy has been fantastic and has taken on a new dimension (as described in my earlier thread)!
I have managed to convince some skeptics about the benefit of the Twin Surbo by letting them drive my Caddy so that they could feel the difference in the performance for themselves (before and after effect of the TDi). That way, action speaks louder than words. Four other Caddy owners have installed the Twin Surbo and they have attested to its benefits and have also written about it in this forum.
Nevertheless, if you want to know more about the technical details of the Surbo, kindly email to Mr Heng at admin@surbo.net. He is the best person (being the inventor) to answer your queries.
Meanwhile, from the little that I know about the Surbo, it's a device that increases the air turbulence from the air intake box so as to create a high pressure buildup. This is similar to what the Turbo is doing currently. By putting in another Surbo (two Surbos) the pressure buildup is doubled and tremendous. The Twin Surbo helps to minimize the turbo-lag inherent in our Caddys that we experience all the time. After installing the Twin Surbo, the turbo-lag has been reduced drastically. We also experience minimum turbo-surge (when the turbo kicks in) for our Caddys. In fact, the Caddy now behaves like a petrol-driven car; very smooth during pick-up from stationary positions. I also noticed that we can easily pull away from most cars when the traffic lights at junctions change from red to green.
As for the 3 Surbos, Mr Heng mentioned that there is a car currently running out there with 3 Surbos installed. Initial finding has been positive from the driver of this car. He will let us know if this experiment is successful later. If that can be done, what I mean is that we can possibly install 3 Surbos in our Caddys as well. That would be something to consider. Maybe not necessary to spend so much $$$ to replace our existing ECU's which may burn a hole in our pockets.
Remember, we are here not to sell products on behalf of other people to increase the profit but to share our experiences with our members when we happen to come across any device/ product that may be cheap, good and that benefit our members.
No offence intended please.
04 Feb 2002
Hi Mr Heng,
I think event has overtaken this reply to you. The fact that another 4 more Caddys have installed the Twin Surbo speaks for the effectiveness of the Twin Surbo on the VW Caddy TDi.
For myself, I have experienced more power, smoother pick-up and a quieter engine since the Twin Surbo was installed in my engine. My Caddy is actually running on 2 Surbos and one Turbo. Wow! The pickup and acceleration of the Caddy TDi has also improved and there does not seem to be any turbo-lag as compared to before installing the Twin Surbo.
So, Mr Heng, thank yo for being so understanding and helpful in yor dealings with the Caddy Club members.
I wish you all the success in your business for the coming year and future.
BBQ
Singapore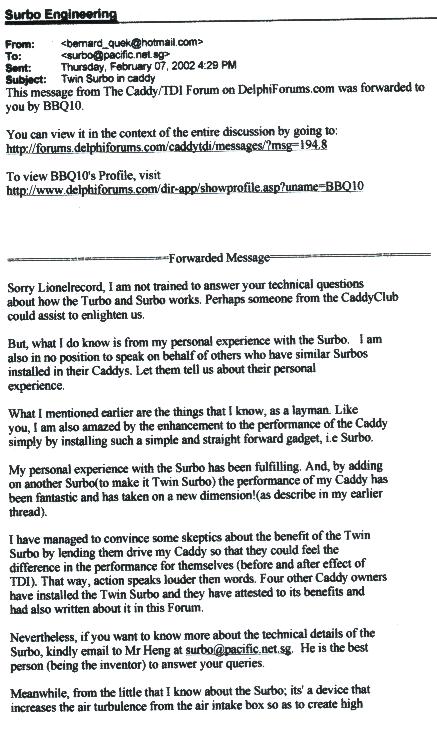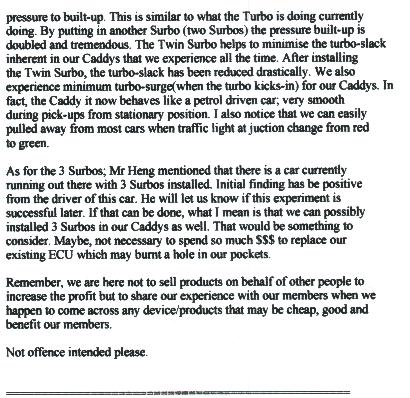 Videos:

Watch the video above showing how an engine revs with Surbo. Or watch it with the How it works page.

Above: video of Volvo XC90 T8 with Surbo, sprinting to 130 kph.

Above: video of Volvo XC90 T8 with Surbo, sprinting to 211 kph.

Above: video of Volvo XC90 T8 with Surbo, sprinting to 224 kph.
Site Map:
TESTIMONIALS:

BENEFITS:
More torque and BHP (dyno test)
Quick revving (1/2 throttle to RPM limit)
VEHICLES FITTED BY TYPE:

Installation Photos
SURBO VERSIONS:
TECHNICAL INFO:
SURBO FOR RACING:
ABOUT US:

CHAT (+65 9857 2661)
If you are using a handphone to read this, you can press the above CHAT link to either call us, or to save our number to your contacts, and then you can message us by clicking the WhatsApp icon below.