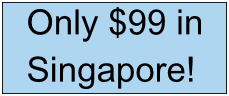 Suzuki Swift GL 1.3 test:

In plain text from source (scanned original email)
Hi Heng
Don't know if you still remember me, you've fitted my Suzuki Swift 1.3 GL with Surbo a couple of months ago (together with another Charade 1.3 at Woodlands). I must say that I've been more than happy with the results, have so far recorded a gain of about 6-8% in fuel savings (and about 10% with the K&N filter).
I do have a couple of questions and would greatly appreciate it if you could answer them:
1. Is this Ecotek compatible with Surbo?
2. Fitting a less restrictive muffler-is it legal in Singapore?
3. How do I know if there's a leak in my system? I've sort of lost the Surbo surge recently; the vacuum gauge that I've installed doesn't seem to suggest anything wrong. Will you charge for a health check on the Surbo system?
Thank you very much for your time.
Rest assured I'll definitely recommend the Surbo.
Regards
Lim Boon Khee
Singapore
Surbo Engineering's comments: Ecotek is not compatible with Surbo, which needs to have a closed vacuum system in order for all the air to pass through it and be pressed. Yes there are legal mufflers in Singapore that you can switch to, but the cost is high for the benefits, which come mainly at high rpm. The leak you are experiencing could be due to the aftermarket filter you mentioned, as the Surbo is fitted before it and the filter seal thickness may be different from the original, causing a leak to the Surbo system. To verify this, switch back to the original filter and test again. There could also be some other leak, such as in the air-filter-connected oil chamber, for example, the oil dip stick, which can be tightened internally with some masking tape. Or, you can come for a free checkup.
Videos:

Watch the video above showing how an engine revs with Surbo. Or watch it with the How it works page.

Above: video of Volvo XC90 T8 with Surbo, sprinting to 130 kph.

Above: video of Volvo XC90 T8 with Surbo, sprinting to 211 kph.

Above: video of Volvo XC90 T8 with Surbo, sprinting to 224 kph.
Site Map:
TESTIMONIALS:

BENEFITS:
More torque and BHP (dyno test)
Quick revving (1/2 throttle to RPM limit)
VEHICLES FITTED BY TYPE:

Installation Photos
SURBO VERSIONS:
TECHNICAL INFO:
SURBO FOR RACING:
ABOUT US:

CHAT (+65 9857 2661)
If you are using a handphone to read this, you can press the above CHAT link to either call us, or to save our number to your contacts, and then you can message us by clicking the WhatsApp icon below.