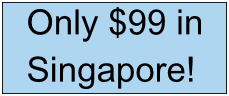 Proton Putra test:

In plain text from source (scanned original emails):
Proton Putra Pg 1
Proton Putra Pg 2
27 Apr 2001
Heng,
I've installed the Surbo in my car and now I can get from 0-100 kph in about 8.0 to 7.5 seconds. Fuel consumption is less by about 5%. I get 5 km more for every 100 km. Top speed is relatively the same at about 210 kph maybe because of gearbox constraints. But it gets there much more quickly now.
Installed a boost meter in my car that also has a vacuum gauge but don't know how to read the gauge. How do you know the Surbo is activated by using the gauge?
All in all the Surbo is working fine and I got more power from it..only thing is..if you're stuck behind a very slow car!!!
Muhammad Hanif Sulaiman
Malaysia
Surbo Engineering's comments: the boost meter readings in the scanned email are unusual. Perhaps the boost meter installer did not do a good job, and there is a leak somewhere. If the units are in InHg, at idle without aircon it may read about -20 InHg, and if the units are in bar, then the reading should be -0.6 bar. Please read the Boost Gauge page for instructions.
15 May 2001
Last night I did a sprint and drag race with another Putra...standard. The story:
1st gear...side by side drag...no time to activate Surbo
2nd gear...at about 80 kph I activated the Surbo...the car fell back for a brief moment and surged forward, leaving the Putra trailing at my rear bumper at about 105 kph.
3rd gear...again activated Surbo...the car jumped from 130 kph to 160 kph!!!!!
4th gear...again it jumped from 170 kph to 185 kph
5th gear...accelerated right up to 210 kph
The other Putra???? Well let's just say he was collecting smoke and road grime...
Muhammad Hanif Sulaiman
Malaysia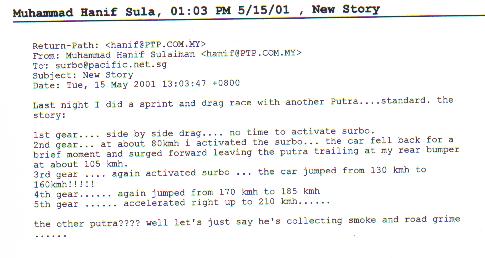 Videos:

Watch the video above showing how an engine revs with Surbo. Or watch it with the How it works page.

Above: video of Volvo XC90 T8 with Surbo, sprinting to 130 kph.

Above: video of Volvo XC90 T8 with Surbo, sprinting to 211 kph.

Above: video of Volvo XC90 T8 with Surbo, sprinting to 224 kph.
Site Map:
TESTIMONIALS:

BENEFITS:
More torque and BHP (dyno test)
Quick revving (1/2 throttle to RPM limit)
VEHICLES FITTED BY TYPE:

Installation Photos
SURBO VERSIONS:
TECHNICAL INFO:
SURBO FOR RACING:
ABOUT US:

CHAT (+65 9857 2661)
If you are using a handphone to read this, you can press the above CHAT link to either call us, or to save our number to your contacts, and then you can message us by clicking the WhatsApp icon below.