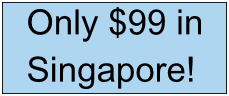 Proton Iswara 1.3 test:

In plain text from source (scanned original email)
Question: can you help on getting me a second Surbo? I've already installed a single Surbo in my 1.3 Proton Iswara within the inlet hose of my modified air filter (elbow). Is there any chance that you have an extended arm to join with my air filter elbow because the second Surbo does not fit (elbow too short)...???
But I tell you the 1st Surbo indeed gives my car better performance...along with my exhaust system (JASMA) the combination gives my car better acceleration and speed. I've tested (sprint) my car with a Proton Putra (standard) and a detomaso GTti Turbo and the result was that the owners of those cars were very surprised at my car's acceleration power. I've beaten the Proton and the turbo car just beside me (gear 1-2-3). I've made some other adjustments though (performance parts) on my car but Surbo is the real thing that makes my car faster. I can't wait to install my car with the second one (Twin Surbo). If you have the answer please tell me (call if you can).
Iqbal Dinzly
Ipoh, Perak, Malaysia
Surbo Engineering's comments: To connect another Surbo, please refer to our Twin_Surbo-ready pipe design. You may have to modify your existing pipe to join a pipe section for the upper Surbo. It's best to look for a local car shop to make this pipe for you as it must join with your existing pipe.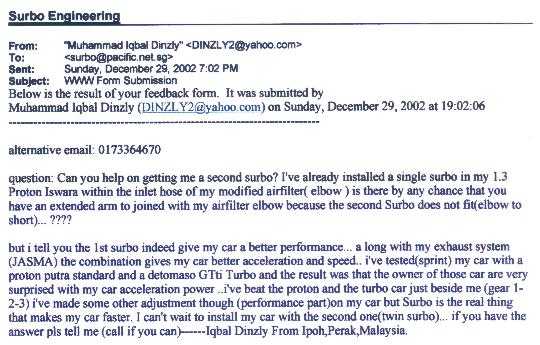 Videos:

Watch the video above showing how an engine revs with Surbo. Or watch it with the How it works page.

Above: video of Volvo XC90 T8 with Surbo, sprinting to 130 kph.

Above: video of Volvo XC90 T8 with Surbo, sprinting to 211 kph.

Above: video of Volvo XC90 T8 with Surbo, sprinting to 224 kph.
Site Map:
TESTIMONIALS:

BENEFITS:
More torque and BHP (dyno test)
Quick revving (1/2 throttle to RPM limit)
VEHICLES FITTED BY TYPE:

Installation Photos
SURBO VERSIONS:
TECHNICAL INFO:
SURBO FOR RACING:
ABOUT US:

CHAT (+65 9857 2661)
If you are using a handphone to read this, you can press the above CHAT link to either call us, or to save our number to your contacts, and then you can message us by clicking the WhatsApp icon below.