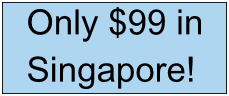 Nissan Presea test:

In plain text from source (scanned original email)
I want to fix a cold air intake to my existing air intake system...using cone K&N filter...can you guys do that? Driving a Nissan Presea with Twin Surbo fitted.
By the way, how do I activate the Surbo to get the most out of it? My way of driving (racing with my car friends) is by flooring the pedal from first gear onwards. I do feel the power from Surbo, but how do I get the most out of it, especially my top speed in fifth gear?
All I know is I got the best upgrade in the world..the Twin Surbo. My 0-100 kph time has been reduced from 13 secs to 7.5 secs, that's about half. I haven't tried the top speed yet (my previous top speed was 180 kph), and I wish I could rival or better my friend's presea's (top speed 215 kph).
So please teach me step by step, on how to get the most out of the Surbo and the cold air intake and also whatever upgrades I can get to further increase the bhp and torque of my car without affecting Surbo's power..thanks.
Azwir Azwir
Singapore
Note from Surbo Engineering: normally we will try to fit the Surbo in your already-installed air intakes, but please also bring the original equipment in case some parts are missing from the modified setup, in particular the side oil cooling breather.
The way you are driving the car is already very fast, considering your 0-100 kph time. However, for normal driving conditions, a large portion of the maximum power possible from your Surbo setup is available from just half throttle; the method is to accelerate, hold the accelerator for a second, and accelerate again, and then rev to your desired rpm before changing gear. This will help you maximize your top speed as you will not floor the accelerator too soon in top gear, and cars like yours have been reported to reach 220 kph with Surbo.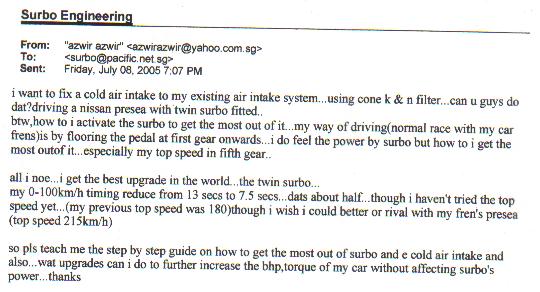 Videos:

Watch the video above showing how an engine revs with Surbo. Or watch it with the How it works page.

Above: video of Volvo XC90 T8 with Surbo, sprinting to 130 kph.

Above: video of Volvo XC90 T8 with Surbo, sprinting to 211 kph.

Above: video of Volvo XC90 T8 with Surbo, sprinting to 224 kph.
Site Map:
TESTIMONIALS:

BENEFITS:
More torque and horsepower (dyno test)
Easy revving (1/2 throttle to RPM limit)
VEHICLES FITTED BY TYPE:

Installation Photos
TECHNICAL INFO:
Allows lower octane (less engine knock)
Longer engine life (lighter throttle)
ABOUT US:
Re-installation (fits most cars)
CONTACT US