SabahDealers
Surbo Race Honda Civic ESi
On this page, see how the Surbo helps the Civic go fast. The same benefits also apply for your vehicle.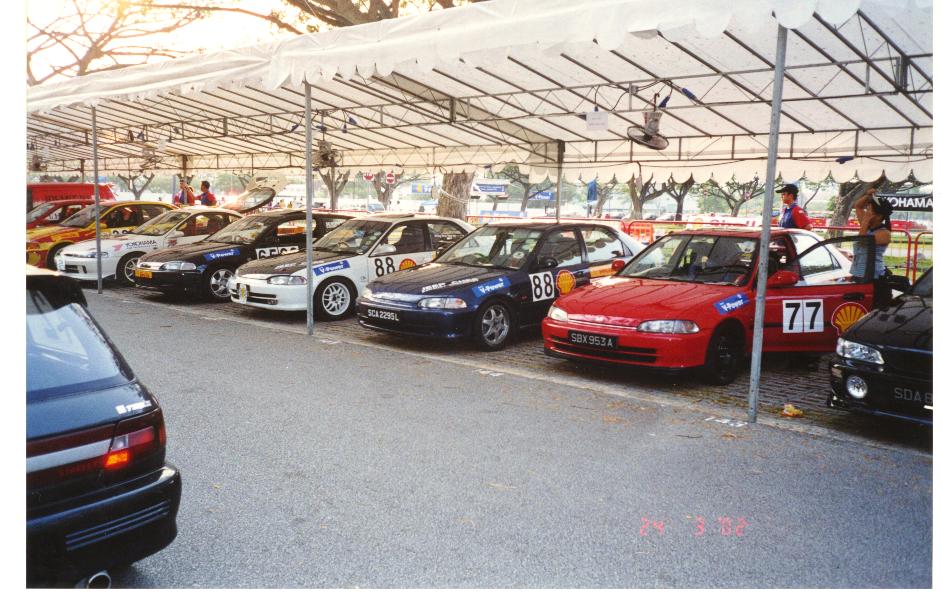 Owner of Surbo-equipped car, no. 88, blue: Mr Ang Guan Piew
Racer: Mr Johnny Wong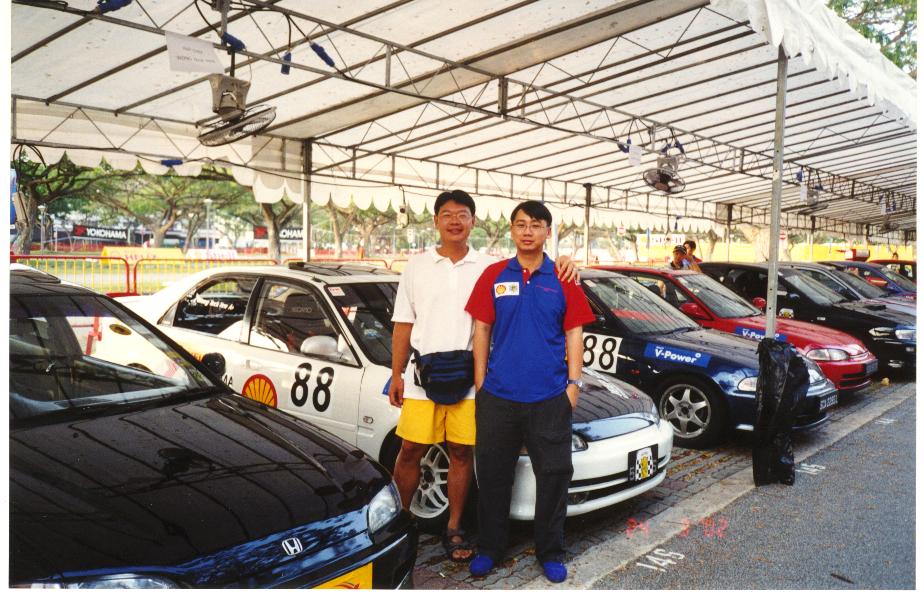 Ang (left) and Wong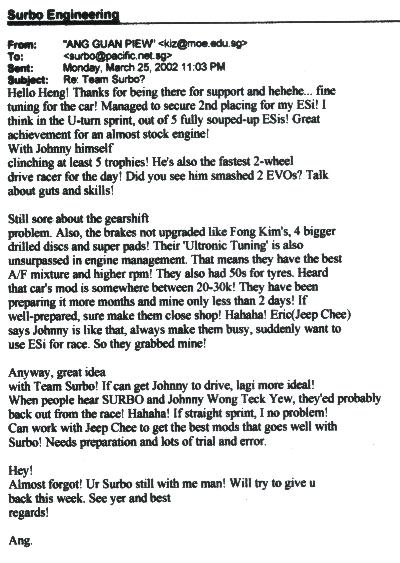 The Event--In Ang's own words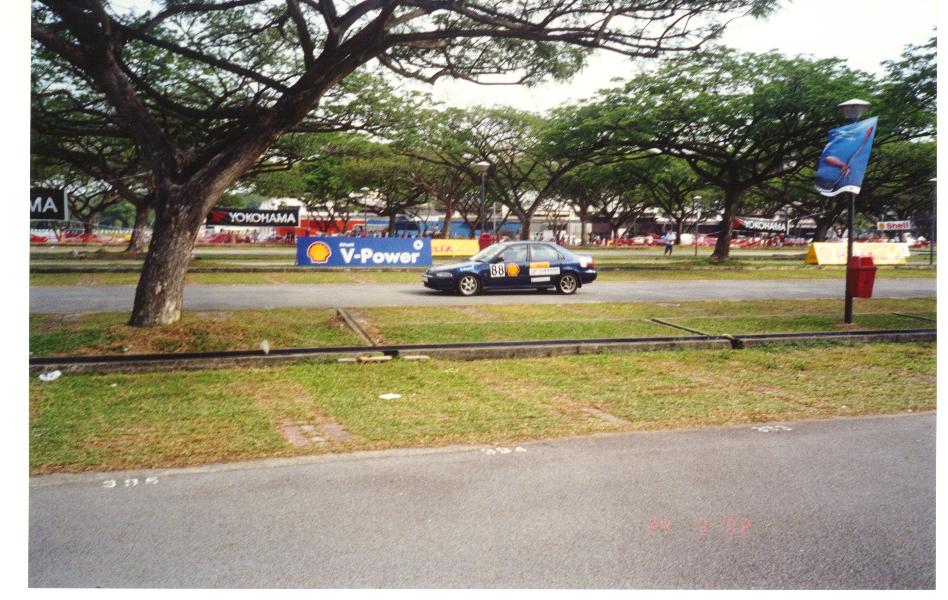 Surbo equipped car, no. 88, blue
Class: Honda Civic ESi 1.6
Mods disallowed: turbochargers, superchargers and nitrous systems.
Specs:
Original equipment: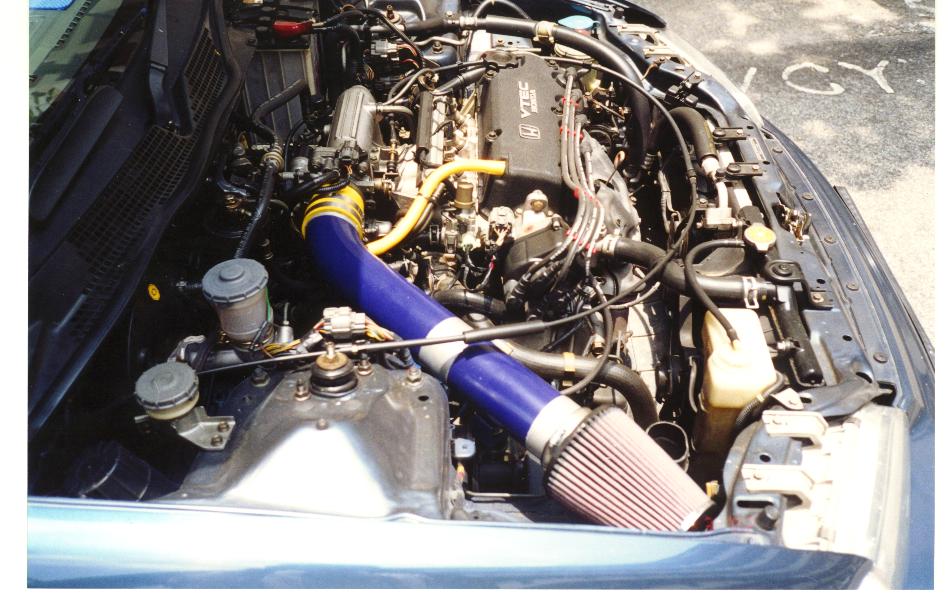 Entire engine (untouched)
Computer chip (original rpm cut-off)
Flywheel
Exhaust manifold
Throttle body
Fuel system including fuel pressure regulator
Brakes
Drivetrain
Add-Ons:
K&N original cone filter
3 inch metal air intake pipe
9.5 mm spark cables
Denso Iridium spark plugs
Uprated spark coil
Race Equipment:
Close ratio gearbox
Racing clutch
Straight-through exhaust pipe
Stiffened and lowered suspension
Surbo Set-up:
Twin Surbos after cone filter in pipe
Purge system deactivated
Unexpectedly, SMSA had a rule dictating the diversion of the oil breather at the air filter pipe to a separate oil catchment tank, and for us to prevent a leak to the Surbos, the lower oil breather at the manifold was also disconnected. In any case, the result was a faster air compression by the Surbos of just the air in the manifold between the engine and the Surbos, bypassing the air in the oil chamber.
Weight savings:
Only seat of rear bench removed. Rest of car stayed original, including carpeting. Most other cars had almost everything thrown out.
Problems:
Driver could not engage second gear easily, due to alignment problem of the racing gearbox that replaced the original one.
Only one week's notice to loan this car for the race.
Oversized racing tyres at 195/55R15 caused mechanical noises on contact with wheel housing and distracted and slowed down the driver at the later figure-8 stages of the races. This added to the gearbox woes, which got worse progressively. Suspected mounting wear and tear.
A breakthrough
This is the first time Surbo Engineering has participated in a sprint and we are thankful to the sponsor, car owner and racer too. The 2nd place result in the



Civic ESi 200m u-turn sprint was unexpectedly good considering that the winning ESi (with mods costing tens of thousands of dollars) had beaten Johnny's personal VTi during practice, and our ESi was not too far off and also it was a rather stock car. It was also Johnny's good day as he went on to win for the two-wheel-drives overall, in his own white VTi. Here he is on the left, during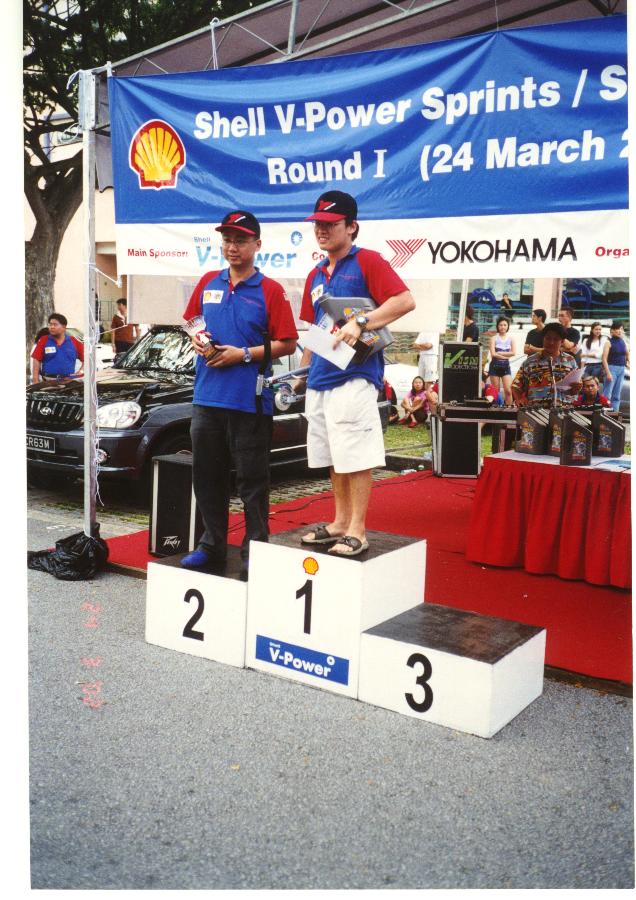 for the ESi event. Ang ran out of film before the second runner-up was found, so that is why there were only 2 guys on the podium....oops.
Next: Surbo wins race in India
Videos:

Watch the video above showing how an engine revs with Surbo. Or watch it with the How it works page.

Above: video of Volvo XC90 T8 with Surbo, sprinting to 130 kph.

Above: video of Volvo XC90 T8 with Surbo, sprinting to 211 kph.

Above: video of Volvo XC90 T8 with Surbo, sprinting to 224 kph.
Site Map:
TESTIMONIALS:

BENEFITS:
More torque and horsepower (dyno test)
Easy revving (1/2 throttle to RPM limit)
VEHICLES FITTED BY TYPE:

Installation Photos
TECHNICAL INFO:
Allows lower octane (less engine knock)
Longer engine life (lighter throttle)
ABOUT US:
Re-installation (fits most cars)
We operate from Vicom Bt Batok Singapore 659545. Contact us to get a Surbo today!
Note: the Surbo is not a moving fan. Beware of other sellers who use our trademark Surbo to sell their products.