Pages are left justified for easy reading on mobile devices.
Surbo, with light turbo effect, gives your engine full power with 1/2 accelerator pressure!
Dear motorist, our mission at Surbo Engineering Singapore is to help you extract full performance from your vehicle easily. With the Surbo, you can drive fast all day without using more fuel!

Increasing air flow and compression from low rpm, the Surbo (air suction-turbo) vortex air charger improves engine torque, resulting in a light feel accelerator, for quick acceleration and fuel saving. Driven faster, it brings the engine to its rpm limit with just 1/2 accelerator pressure! You'll never have to floor the accelerator again, thus avoiding wasted fuel and excessive emission.

GENERAL ADVANTAGES:

10% fuel saving in city driving and more on highways, due to less accelerator pressure required for the same speed.
Higher rpm capability, more torque and bhp over a wider rpm range.
0-100 kph acceleration time cut by 1 second for faster cars and up to 3 seconds for slower cars.
Higher top speed by up to 30 kph for the average 1.6 sedan (as reported by customers).
Less CO2 output due to less fuel required for the same rpm.

SPECIFIC ADVANTAGES:

For automatic vehicles: instant acceleration from rest with no torque converter slip due to increased torque. Higher rpm possible with 1/2 throttle in D mode to between 4500 rpm and rpm limit depending on gearbox, and quicker changes to lower gears. More info and auto car list..
For manual vehicles: achieving rpm limit with just 1/2 throttle, and even higher rpm if the rpm limit is removed for racing cars More info and manual car list..
For diesel vehicles: better load capability, less diesel black smoke because the accelerator is pressed only halfway for the engine to reach the rpm limit. Helps prevent clogging of particulate filters. More info and diesel car list..
For turbocharged vehicles: reduced turbo lag. More info and turbo car list..
How can the Surbo be so effective?
Without Surbo
In normal cars, it's often quite difficult to achieve the claimed performance figures. For example, it is said that in order to clock the stated acceleration time, that barrels of fuel is spent over many time trials. Also, often the real fuel consumption figures are higher. Why is this so? From our experience fixing the Surbo on cars over 16 years, we have found the following:

Due to gaps along the air intake, air suction is not entirely directed at the air filter. Not only is air velocity through the air filter not as high as it can be, the gaps mean some of that air will not enter the engine for combustion. To create more air suction, the accelerator has to be pressed more, causing more fuel to be injected, resulting in over-fueling that can cause hesitation, and even knocking. The rpm achieved may not be very high. Some fuel is wasted, often in the form of emissions.

A shortage of air causes automatic gearboxes to shift up too soon, because in a higher gear, the engine requires less air. This also makes downshifts more difficult, as the engine requires more air for higher rpm in a lower gear. So, often the accelerator has to be pressed deeply to allow more air into the engine to induce a gear shift down. The result is wasted fuel, increased emission and foot fatigue for the driver.

In a petrol engine, when the accelerator is pressed more, the vacuum in the engine manifold drops. However, the vacuum is the force that draws air into the engine. The moment the accelerator is pressed fully, the vacuum is minimized, and air induction force is depleted. Also, with the accelerator on the floor, fuel injected is maximized and over-fueling and even knocking can occur. Acceleration quickly becomes zero for the gear, and a gearchange up is necessary for further acceleration. Acceleration begins to slow significantly from third gear, and in the top gear, the rpm limit cannot be reached. Therefore, the top speed of a typical 1.6 litre sedan is only about 190kph.
With Surbo
The Surbo is designed to help you extract the full performance of your vehicle easily, and not only that, but with just 1/2 of full accelerator pressure. How can this be done?

During installation of the Surbo, the gaps in the air intake are covered. Less accelerator pressure is required to pull the air through the air filter and into the engine, so less rpm is required to achieve sufficient torque. The lesser fuel injected due to less accelerator pressure means over-fueling and knocking are prevented. More air goes into engine for proper combustion. So, acceleration becomes faster initially, so much that some of the added momentum and time saved can be used to compress air through the Surbo, for even more power.

By slightly easing pressure off the accelerator for 1 second, a backward air pressure is formed towards the outlet of the Surbo, causing it to jet air at its outlet to match the back pressure, and to spin air internally with a vortex to maintain the compression. Upon subsequent acceleration, the Surbo's vortex continues gorging air into the engine, so that the rpm limit is achieved with just 1/2 accelerator pressure!

When the air is charging between the Surbo and the engine, the engine also puts out exhaust gases of increased pressure, thus helping the exhaust system to blast out the burnt gases from a lower rpm (which aids low end torque). For turbocharged engines, since the turbocharger is driven by the exhaust, the response time of the turbo is reduced so the full turbo effect comes earlier and with less effort.

For automatic vehicles, since the Surbo feeds the engine with more air, the engine is allowed to rev higher before changing to a higher gear, and this gives more speed and makes better use of the original max engine torque available at the upper mid rpm range. Similarly, due to more air on standby, downshifts are easier to induce with just a slight press on the accelerator. Once the Surbo is on, a second downshift can also be induced for even more acceleration.

Since the accelerator is never floored, sufficient vacuum draws air into the engine forcefully, so acceleration is extended till the rpm limit is reached. Often, the Surbo-assisted vehicle is so strong that it will reach the rpm limit even in the top gear, and top speeds of 220 kph for 1.6 litre sedans are consistently reported by customers.

As the accelerator never has to be floored, emissions are kept low. All the fuel is used properly for better acceleration or fuel economy.

How does using Surbo feel like? Here's a typical day using Surbo
Pictures of engines with Surbo installed

Above: Photo of Surbo in pipe after the air filter
of Mitsubishi Lancer CS3


Above: Photo of Twin Surbo at air filter
inlet of Perodua Kelisa


Above: Photo of Surbo at air filter
outlet of Hyundai Getz 1.3/ 1.6


Above: Photo of Twin Surbo in outlet of air
filter of Proton Gen 2/ Persona/ Exora


Above: Photo of Surbo at air filter
inlet of Toyota Altis 2007/ Wish


Above: Photo of Surbo in pipe after air
filter of Nissan Latio 1.5/ Sylphy
Here Are Some Testimonials:
Source: Original Email Scanned. Not Edited.
MP3 Testimonials (Chinese dialect)
Proton Iswara "The Real Thing"
Proton Saga: Better Hill Climbing With Surbos
Twin Surbo saves 12% fuel for Subaru Impreza
TECHNICAL SECTION
Latest Articles
Compression graph of a conventional petrol engine versus one with Surbo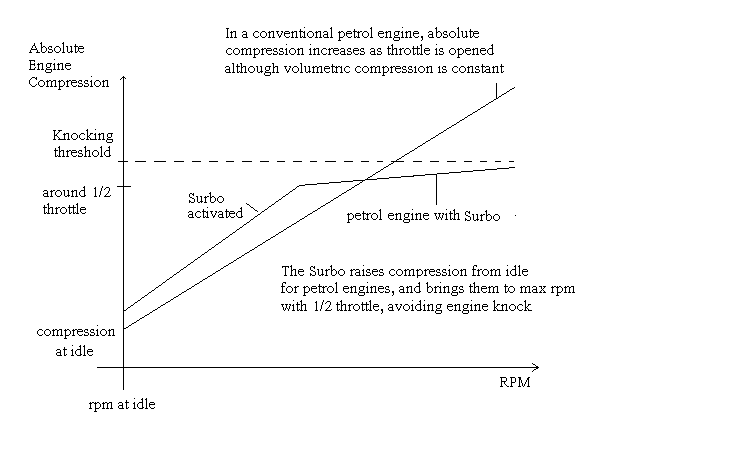 If you find this website helpful, please share with friends!
Site map
BENEFITS
TECHNICAL-->(includes latest articles)
TESTIMONIALS
VEHICLES
SALES
RACING
Go kart with Surbo--too much power for Mike to handle? Click and find out




ABOUT US
OTHER LANGUAGES:
| | | | | |
| --- | --- | --- | --- | --- |
| | To contact us or send your engine or air filter photo, use WhatsApp (save our contact as +6598572661 first, then find us on WhatsApp) | Or email: admin@surbo.net | Singapore 24 Hour Tel 65-6368-0100 | The cost of the Surbo, including installation, is 80 Singapore dollars only. For on-site installation in Singapore, please call or sms 98572661 |