Max power now possible with just 1/2 throttle!
Increasing air flow with jets and a vortex to match increased fuel flow during acceleration, the Surbo (air suction-turbo) enables the engine to pull air through easily and reach its rpm limit with just 1/2 accelerator pressure! You'll never have to floor the accelerator again, thus avoiding wasted fuel (as emissions and carbon deposits), excessive cylinder pressures and heat, and fatigue.

ADVANTAGES FOR ALL VEHICLES:

OTHER IMPROVEMENTS:
Surbo installed on Mitsubishi Lancer CS3, and Twin Surbo on Perodua Kelisa (similar to Kenari, and Daihatsu Move and Cuore). No cutting and reversible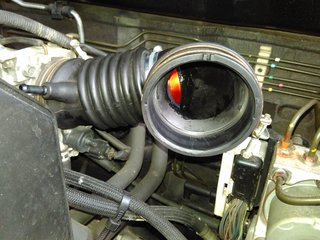 Get a free check of your air intake components. The $99 Surbo price includes rectification of air intake faults (especially for used or modified vehicles) for installation of Surbo, instant performance improvement, lifetime warranty, and tips on beneficial upgrades.
Further reading:

If you find this website helpful, please tell someone!
Check here for leave or busy periods:
News: free upgrade for Surbo users. Please contact us for more info.