This web page is left justified for mobile devices.
Make your car fun to drive with Surbo!
Increasing air flow and compression from low rpm, the Surbo (air suction turbo) improves engine torque, resulting in a light feel accelerator, for quick acceleration and fuel saving. Driven faster, it brings the engine to its rpm limit with just 1/2 accelerator pressure! You'll never have to floor the accelerator again, thus avoiding wasted fuel, harmful carbon deposits, and excessive emission.
ADVANTAGES FOR ALL VEHICLES:
10% fuel saving in city driving and more on highways, due to less accelerator pressure required for the same speed.
Higher rpm capability, more torque and bhp over a wider rpm range.
0-100 kph acceleration time cut by 1 second for faster cars and up to 3 seconds for slower cars.
Higher top speed by up to 30 kph for the average 1.6 sedan (as reported by customers).
Less CO2 output due to less fuel required for the same rpm.
OTHER ADVANTAGES:
For automatic vehicles: instant acceleration from rest with no torque converter slip due to increased engine torque. Higher rpm possible with 1/2 throttle in D mode to between 4500 rpm and rpm limit depending on gearbox, and quicker changes to lower gears. More info and auto car list..
For manual vehicles: achieving rpm limit with just 1/2 throttle, and even higher rpm if the rpm limit is removed for racing cars. More info and manual car list..
For diesel vehicles: better load capability, less diesel black smoke because the accelerator is pressed only halfway for the engine to reach the rpm limit. Helps prevent clogging of particulate filters. More info and diesel car list..
For turbocharged vehicles: reduced turbo lag, improving turbocharger performance. More info and turbo car list..
Pictures of engines with Surbo installed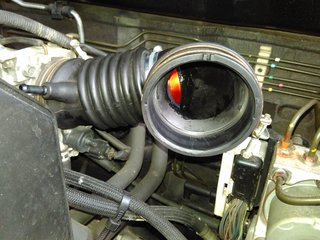 Above: Photo of Surbo in pipe after the air filter
of Mitsubishi Lancer CS3

Above: Photo of Twin Surbo at air filter
inlet of Perodua Kelisa

Above: Photo of Surbo at air filter
outlet of Hyundai Getz 1.3/ 1.6

Above: Photo of Twin Surbo in outlet of air
filter of Proton Gen 2/ Persona/ Exora

Above: Photo of Surbo in air pipe
of Toyota Altis 2007/ Wish

Above: Photo of Surbo in pipe after air
filter of Nissan Sylphy
By adding a Surbo, your vehicle becomes quicker. Here's how:
1. The Surbo gives more torque over a wide rpm band. Torque means instant twist power. The engine with Surbo on can accelerate briskly and sustain the acceleration to red line or beyond, all on half throttle or less. That means easier pickup, and fuel savings because you will press less on average (by mathematical derivation on Wikipedia, the amount of fuel injected at any moment is proportional to number of cylinders x rpm x accelerator pressure). With Surbo, although you will rev higher, accelerator pressure required is less, and as you are faster and will spend less time in the acceleration phase, you will get to cruising faster, so you will save more fuel.
2. The Surbo delivers higher power (which is proportional to rpm multiplied by torque at that rpm). If your car starts slowing down by 4000 rpm, it's time to restore the power. The Surbo takes your engine back to red line (rpm limit) easily and puts back some 50% of existing acceleration power based on rpm, assuming a red line of 6000 rpm. Or, instead of travelling 40 metres, you travel 60 metres in the same time. You'll realize this when you start beating familiar traffic lights. Up the gears you will pull even further away from other cars as they start to slow by 3rd gear. This is because these drivers have to press the accelerator more for higher gears, and use up most of the manifold vacuum for air suction, and perhaps even encounter knocking and over-fueling. The Surbo, with its own vortex suction power, uses less of the manifold vacuum to pull the air in, so extending power.
3. The Surbo assists hill climbing. Just going up the incline, activate the Surbo for extra air compression to charge up the hill. This makes the Surbo useful for long hills like those at Seremban Heights in Malaysia. There it starts with just a moderate slope that attracts little attention, but after that there is a bend and a sharp uphill climb. Many drivers and cars are not prepared (for example, by picking the correct gear and charging up the slope with speed). The wide-band torque of the Surbo gives added flexibility. The driver can maintain a low rpm in a higher gear for longer, or he can shift down to use the high rpm power of the Surbo too. The Surbo is also useful for mountains like the Genting Highlands, where air density and hence oxygen content drops with altitude. For every 100 metres climbed, engine power falls by 1 percent. The Surbo when activated gives improved air density for efficient combustion.
Testimonial regarding Surbo's hill climbing assistance..
More details on how the Surbo improves hill climbing.
4. The Surbo assists the engine to overcome loads like the airconditioner. The low rpm power of the Surbo helps, as that is the region most weak vehicles are stuck in while trying to accelerate. Once the Surbo takes care of the aircon load, it can just power away up the revs, allowing gearchanges upwards and gaining speed, till the aircon is less of a problem.
5. The Surbo gives you confidence to overtake quickly. Especially long vehicles which have blind spots, or a whole convoy of vehicles unable to pass them.


Just accelerate and hold the accelerator briefly to back pressure the Surbo for a vortex, and when the accelerator vibrates indicating increased engine power, start accelerating with half throttle to high rpm, and repeat in the next gear if necessary.
7. The Surbo gives you freedom to speed without fuel penalty. Where legal, you'll achieve your vehicle's rated top speed with less than full throttle, or you can be cruising at 150kph with about half throttle. Our customer feedback shows that the speed for maximum economy gets stretched from the usual 90 kph to 110 or 120 kph, despite wind resistance increasing as a cube of the speed. For example, a Surbo Civic ESi cannot better 12 km/l in Singapore but will do 17 km/l at 110 kph on the Malaysian North-South Highway. Its engine rpm at that speed was near to the Surbo's torque peak rpm, at around 3300 rpm.



The increase in the top speed will be especially noticeable if your car has accumulated a lot of mileage (which causes the air flow to be less due to worn valve cams or carbon), and needed a lot of accelerator pressure to run fast. The lighter throttle also reduces fatigue. Your own body will feel the tickling of Surbo-induced acceleration, and your passengers too will get a gentle back massage througout the drive. Surbo is lots of fun. Get yours today!
Here are some testimonials:
Source: Original emails from customers.
"..the Surbo works pretty well.." Alfa 145
"The AT (auto transmission) shifts faster and is more decisive now. There are lots of torque when driving. The engine is no longer so loud.." Daihatsu Terios
"Surbo has brought joy to driving a traditional SUV" Ford Escape
"..installation was simple and the results outstanding. I am very pleased" Geo Metro 1.0
"At gear 2 I was past 100 kph and my passenger said the BM was 50m behind!" Honda Civic ESi
"..works really well, you could feel the surge in power of the car.." Honda Civic GL
"..put in a Surbo roughly 2 months back. Very satisfied with it.." Honda Stream
"..quite surprised a little air gadget like Surbo can make the car more responsive.." Hyundai Atos
"Seems like transforming my 1.6L to 1.8L or even 2.0L" Kia Cerato
"..single (Surbo) works on my Mazda 3...Will try the twin one hehehe" Mazda 3
"..engine could rev easily from 2200 rpm (when the turbo starts) onwards to redline 4500rpm in about 2 seconds earlier than without the SURBO installed!" Mercedes Vito 111
"..my car could go from standstill to 80 kph at 2500 rpm, and 110 kph was possible between 2200 to 2300 rpm, and 130 kph around 2400 rpm.." Mitsubishi Lancer CVT
MP3 Testimonials (Chinese dialect)
"All I know is I got the best upgrade in the world..the Twin Surbo. My 0-100 kph time has been reduced from 13 secs to 7.5 secs, that's about half." Twin Surbo Nissan Presea
"..been 2 years since you installed my Twin Surbo..and I'm now (still) using it. It's great!!!" Nissan Sunny FLN6
"The test trial after installation showed the obvious change in the power of my car. I was surprised to have clocked 8 secs flat from 0-100 kph with my car as the stats for the Sunny 1.6 auto was 11.7 secs. I had a better top speed at 205 kph than the previous 185 kph. There is also better fuel economy at 12 km/l than the previous 9 km/l." Twin Surbo Nissan Sunny Auto
"Pickup at low rpm is achieved with relatively lighter throttle, and once past the 3000 rpm mark with Surbo activated, the surge of power comes like never before!" Nissan Sunny 1.5EX
"With one Surbo my FC was 9.8 km per litre, and with the Twin, I am now getting 10.6 km per litre." Opel Vectra
"I was in a shock because his car was more powerful than mine; it was like driving a Proton Wira 1.3. Then we stopped at the nearest petrol station & he showed me what he had done to his car, and showed me the Surbo.." Modified Perodua Kancil
"He asked me what I did to the car and if I turboed the car while he was studying in the UK..I just replied :"err..did you HEAR any BOV (blow off valve) sneezing when I changed gear???" Perodua Kancil 850
"..it allows you to accelerate in top gear (fifth gear) from 90 kph to 120 kph in one single shot" Perodua Kenari
"I had initially thought that this entire boost from the Surbo would mean more consumption, BUT it did not turn out so! Fuel consumption was bettered slightly from 11.4 km/litre to 13 km/litre.." Peugeot 206
"I've made some other adjustments though (performance parts) on my car but Surbo is the real thing that makes my car faster" Proton Iswara
"All in all the Surbo is working fine and I got more power from it..only thing is..if you're stuck behind a very slow car!!!" Proton Putra
"Tested my car for hill climbing just now..wakakaka..the result (with full aircon)..easily overtook Isuzu Invader with turbo and 1.5 Wira..kick man.." Proton Saga
"I would like to let you know that I have just installed a Surbo unit this afternoon, and boy did I get the thrill factor in my car now!!! Thanks for a great product.." Proton Satria 1.3i
"..I am enjoying the first Surbo very much" Proton Satria GTi
"Now, I couldn't help myself testing the Surbo all night long." Proton Wira 1.3i
"Good power band increase. Like my car just added 200-300 cc." Proton Wira 1.5 GLi
"Instant results, top speed increased from 200 to 210 kph. 0-100 kph acceleration time reduced from 8.5 secs to 7.5 secs. Awesome performance." Modified Proton Wira 1.5
"..works wonders for the diesel engine. Acceleration and pulling power is definitely more pronounced.." Proton Wira 2.0 Diesel
"I'm satisfied and really discovered a new way of driving improvement by using the powerful Surbo." Proton Wira carb
"..2nd gear now scares the living daylights out of me! It is incredibly fast." Renault Clio 1.4 16V
"..and the difference is huge. Even Firman was astounded." Renault Megane Coupe
"I've gained about 12% on mileage in spite of my 17" rims." Twin Surbo Subaru Impreza
"I'm very pleased with the result of the Surbo.." Suzuki GTi
"I must say that I've been more than happy with the results.." Suzuki Swift GL 1.3
"..and you will feel your body being pressed against your seat.." Toyota Corolla '99
"I'm enjoying this "turbo effect"!!! I still cannot believe that this Surbo can make my car "FLY"!!!" Toyota Corolla 1.3i
"My 2nd race was with a Mira turbo...heheh beat the life out of him...3rd race also with Mira...same story...kikiikikiik..." Toyota Starlet-Turbo
"This is similar to what the Turbo is doing currently. By putting in another Surbo (two Surbos) the pressure buildup is doubled and tremendous. The Twin Surbo helps to minimize the turbo-lag inherent in our Caddys that we experience all the time." VW Caddy Turbo Diesel
Latest Articles
If you find this website helpful, please share with friends!

WhatsApp +6598572661
Surbo with installation in Singapore for only $80
Our working time is from 9am to 9pm daily except for Sundays (12 noon to 4 pm).
Contact form