Fun, affordable, light turbo effect for your car!
<--Rpm red line, now possible with just 1/2 throttle using the Surbo!
You'll never have to floor the accelerator again!
| | |
| --- | --- |
| Above: Photo of Surbo in Mercedes C250 CGi | Above: Photo of Surbo in Suzuki Swift 1.5 |
| Above: Photo of Surbo in Toyota Camry 2008 | Above: Photo of Surbo in Honda Civic Type R |
| Above: Photo of Surbo in Toyota Altis 2007 | Above: Photo of Surbo in Opel Combo 1.7 CdTi |
More Surbo installation pictures
Discover SURBO (air Suction-turbo)...
Experience instant throttle response, low rpm power, a light-feel accelerator, and a quick gearchange with right foot staying at almost the same position on the accelerator. Your engine becomes accelerative and revs freely with half throttle to its rpm limit. You'll be able to feel the power kick in even when driving gently, with a tingling accelerator. Witness less deceleration if your foot is taken off the accelerator, as engine brake is used to charge the Surbo to provide forward momentum. There's no need to floor the accelerator, and your right foot stays fresh. Your back can feel a force, when the vehicle mass is used to push the engine when charging the Surbo. Familiar slopes are ascended surprisingly easily. Enjoy more load capability for goods, passengers and the aircon. Feel the effortless pull from your Surbo-assisted engine; it won't be overworked anymore. There is more overtaking power. Cruise at a higher speed for the same accelerator pressure. Peace of mind comes from not wasting fuel or causing emissions by never over-pressing on the accelerator. Make the car run on compressed air by controlling the Surbo to spin air harder. Get more power exiting a sharp bend, as Surbo's automatically charged while decelerating in gear. Notice that your car pulls harder than others from third gear, leaving them far behind. It's a racing game you can play daily.

GENERAL ADVANTAGES:

10% fuel saving on average due to less accelerator pressure required for the same speed.
Higher rpm capability, more torque and bhp over wider rpm range.
Acceleration time from zero to 100 kph cut by 1 second for faster cars and up to 3 seconds for slower cars.
Higher top speed by up to 30 kph.
Less CO2 output due to less fuel input required for the same rpm.

SPECIFIC ADVANTAGES:

For automatic vehicles: instant take off from standstill with no torque converter slip due to increased torque, higher revs in D mode between 4500 rpm to red line depending on gearbox, and easy gear kickdown. More..
For manual vehicles: achieving rpm limit with just 1/2 throttle, and even higher revs if the rpm limit is removed. More..
For diesel vehicles: no diesel black smoke because the accelerator is pressed only halfway for the engine to reach the rpm red line, and better load capability. More..
For turbocharged vehicles: reduced turbo lag, and ability to anticipate the turbo. More..
Latest Articles
Compression graph of a conventional petrol engine versus one with Surbo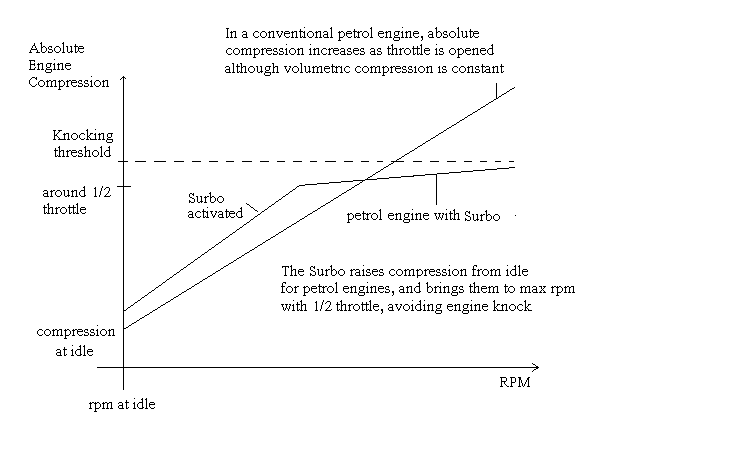 News
Participation in Tawau race, Sabah, Malaysia
The Surbo Sabah team will be fielding two cars in the normally aspirated class. Join us for some fun!
Singapore 24 Hour Tel 65-6368-0100
For on-site installation in Singapore, please call or sms 98572661. To show us your engine or air filter setup, please send a picture via email or WhatsApp (save our contact as +6598572661 first, then find us on Whatsapp)
If you found this website helpful, please share it with friends, link to us, or "like" us on Facebook.
Site map
BENEFITS
TECHNICAL
TESTIMONIALS
VEHICLES
SALES
RACING
ABOUT US
OTHER LANGUAGES: