Get more speed and fuel saving at the same time!
How? The Surbo, an air jetting device, brings your engine to its max RPM with just 1/2 throttle!
Photos show Surbo installed on 2016 Honda Fit/ Vezel/ HRV/ Grace/ Shuttle+hybrid/ Freed+hybrid, and Twin Surbo on Mazda 3.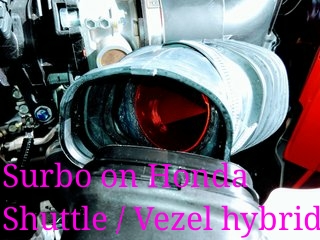 ADVANTAGES FOR ALL VEHICLES:
OTHER IMPROVEMENTS:
LTA inspection compliance (based on reduced emissions per km)
Get a free check of your air intake components. The $99 Surbo price includes rectification of air intake faults (especially for used or modified vehicles) for installation of Surbo, instant performance improvement, lifetime warranty, and tips on beneficial upgrades.
How Surbo transforms your car:
Faster acceleration, especially from standstill for automatic cars
Higher RPM capability, rev limit possible with just 1/2 throttle!
The Twin Surbo, 2 Surbos in series for even more low rpm torque
How Surbo increases engine compression at low rpm and prevents excessive compression at high rpm
How Surbo's increased air density enhances diesel technology, and raises peak RPM
Buy Surbo online with installation guide, if there's no dealer near you
Aftersales service and advice, on accessories or compatible vehicles
User testimonials (with original source):

If you find this website helpful, please tell someone!
Check here for days closed: May 17-24, and 29. We are contactable via WhatsApp +65 98572661 anytime.