Get a fun, light turbo effect, yet save fuel!
Many drivers say their cars have no problem at speed, but they could be faster from standstill. The air-jetting Surbo, with its higher air compression from low rpm, compensates for excessive fuel input during acceleration, making it instant, especially for automatic cars.

The Surbo then takes your engine to its rpm limit if desired, with just 1/2 throttle! The faster acceleration means you'll cruise sooner, and 10% fuel is saved on average. As that means lower emissions per km, the Surbo is vehicle-inspection compliant. We invite you to explore the possibilities for your car, by going through this website.

Photos show Surbo ($99) installed on Honda Fit (similar to Civic and Stream), Twin Surbo ($160) on Suzuki APV, Surbo5 ($120, for large engines) on Toyota Mark X 2.5,
and Surbo on turbocharged VW Tiguan/ Passat Audi A3, on turbodiesel Toyota Hiace and on hybrid Toyota Prius C.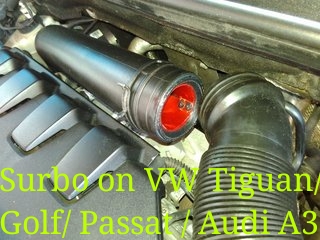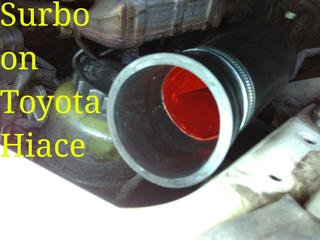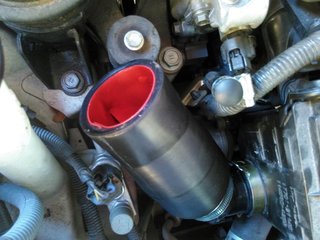 ADVANTAGES OF SURBO FOR YOUR VEHICLE:
Calculation: if for example you spend $200 on fuel a month, you'll save $20 a month, and you'll recover the cost of the Surbo in 5 months. After that, the Surbo can be used for a lifetime, and also on most other cars with engines 2.4 litres or smaller. The significant power increase also means that you won't need to spend more on other accessories.
More fuel-saving results
Grab car fuel economy test report
OTHER IMPROVEMENTS:
Above: video of Volvo XC90 T8 with Surbo, sprinting to 130 kph.
Above: video of Volvo XC90 T8 with Surbo, sprinting to 211 kph.
How Surbo transforms your car:
TESTIMONIALS:

TECHNICAL INFO:
Less knock (allows lower octane)
BENEFITS:
VEHICLES FITTED WITH SURBO:
ABOUT US:
SALES:
You're at the home page